THE MYSTIQUE OF J.J. RAWLINGS
01/06/21, KAYode Soyinka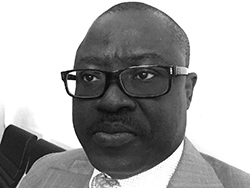 Ghana's former president Jerry Rawlings who just died, aged 73, has left a legacy so complex and complicated that even the country he ruled, both as leader of a military junta and a transformed democrat, is confused and divided on how best to place him in its chequered history.
Let's give it to him, he was a very charismatic person, so brave as a young Air Force officer; so strong and blunt with his views. He was very opinionated. Passionate and, no doubt, patriotic about his country. He was also an emotional person, so emotional about the slow pace of development in Africa. There are speculations about the cause of his sudden death. But it is even unnecessary to hazard a guess. He might have died as a result of his frustration that he never saw the great Africa of his dreams - the united and economically strong Africa that his erstwhile predecessor and founding father of Ghana, the great and revered Kwame Nkrumah had envisioned and enthusiastically campaigned for before his own ouster from office and eventual demise in 1972. It is unquestionable that Jerry Rawlings was a Ghanaian patriot and a pan-Africanist of legendary status with space undoubtedly assured for him in history, whichever way historians decide to place and judge him.
He was born Jerry Rawlings John in Accra 22 June 1947 to a Ghanaian mother and a father who was British from Scotland - James Ramsey John. Ramsey John was a chemist, who came to Ghana from Castle Douglas in Kirkendbrighshire in Scotland. He sent his son, Jerry, to the famous Achimota College in Accra after which he gained admission to the spartan military Academy in Teshie to train in the Air Force as a fighter jet pilot. It was while he was filling his application form to gain admission into the military academy that his name was changed from Jerry Rawlings John when he switched his father's surname to his middle name and thus became known and later in life became famous as Jerry John Rawlings - J. J. Rawlings, or "Junior Jesus" Rawlings, as some fondly called him.  
He was a very fascinating character who showed signs of being special from his precocious early days. He was outstanding at Takoradi in Ghana's Western Region, where he was sent for training that when he graduated in 1969 and became a commissioned officer, he won the "Speed Bird Trophy", which made him the best cadet flying the sub-7 ground attack supersonic jet aircraft. He rose to become a Flight Lieutenant in April 1978.
It seemed that his success in the military was assured. But there was something about him, even from that early in life; he had chosen to be always recalcitrant to the establishment. As a military pilot, Rawlings had not only been watching but following the political situation in his country avidly. He had harboured a secret interest in the country's governance and had noticed graft and widespread corruption creeping into government and the entire system. He saw the ruling class, especially those whose responsibility it was to govern the country, lacking a sense of direction, especially in the management of the economy. He became radicalised and started identifying and aligning himself with like-minds in the military who were mainly young officers like him. He mixed with the youth, especially university students and the real grassroots and indoctrinated them to show interest in the politics and governance of their country. This made him to start gaining popularity and gradually building his political base and gaining supporters.
He particularly did not like the military government of the then Head of State General Fred Akuffo. He was concerned about the scale of corruption in that government. He was convinced that the whole of Akuffo's ruling Supreme Military Council was corrupt from top to bottom. It was only a matter time for him to rally his young colleagues in the army to strike and stage a coup d'état to topple that government.
His first attempt at changing a government in Ghana was in his first coup of May 15, 1979 which was against the government of General Ignatius Kutu Acheampong. That coup failed and he was arrested, court marshalled, and sentenced to death. One thought it was all over for this radicalised young and idealistic Air Force pilot. On the contrary, his chapter in the history of Ghana had only just begun to be written and was only at the preface stage.
While he was in prison waiting for his execution, some of his former comrades stormed the prison where he was kept on June 4, 1979 and set him free. They regrouped and still believed that the government, now led by General Fred Akuffo, was corrupt and staged the coup that got him out of power. Rawlings had always showed his disdain for that government, anyway.
He then replaced Akuffo on June 4, 1979.  He set up what became known as the Armed Forces Revolutionary Council made up of mainly idealistic young officers who were inexperienced in running a government. They couldn't stay long in power. That government only ruled till September 24 of that same year. But before they handed over power, they carried out a shocking sweep of the military hierarchy which up till today still sends shivers through Ghana's psyche. With just 112 days in power, they had carried out the execution of eight military officers, including three former Heads of State, Generals Acheampong, Akuffo and Akwasi Afrifa. The executions, which sent shockwaves across the world, were unprecedented in Ghana's history and changed the course of history of the west African country. Ghana was not going to be the same again.
The entire Africa, most of which had despotic rulers were shocked by the executions. Up till today the executions remain a reference point on the continent. Other African countries where there are sit-tight and authoritarian regimes still wish these rulers are given the "Rawlings' treatment". Perhaps more than anything else he did, this revolution would be what he would be mostly remembered for in Ghana, Africa and the rest of the world.
His second coup d'état was, according to him, meant to be the coup that would stop all coups in Ghana. Rawlings didn't quite achieve that at first. He organised the election that made him hand over power to President Hilla Liman only for him to show up again two years later on December 31,1981 to lead another coup that ousted President Liman from office, claiming that his government was weak and lacked direction. And just like he had done in his first successful coup he 'allegedly' killed three Supreme Court Justices and two military officers. They were said to have been abducted and killed secretly. No one claimed responsibility for their murder, but five people were arrested, tried and convicted for the killing of the justices and Major Sam Aquah and they were all executed.
Rawlings then took firm control of power again. This time ruling with a Provisional National Defence Council made up of his colleagues in the military. He had accused the governments he toppled of lacking the knowhow in running the economy. However, he was soon to find out himself when he took over that the economy was in such a bad shape that he himself did not have the magic wand to fix it. His back to the wall, he was left with no other choice than to ask cap-in-hand for rescue from the International Monetary Fund (IMF) - usually a very bitter pill for developing countries to swallow.
But Rawlings had no choice but to swallow the IMF pill. The country's currency was badly devalued, and Ghana became the testing ground for the widely unpopular Structural Adjustment Programme (SAP) of the IMF. Ghana was being showcased as the darling of the IMF - the country in Africa where its controversial SAP programme was working and was, therefore, pressurising other developing countries, especially in Africa to embrace it. But the truth was that under the SAP, Ghanaians for many years, groaned under excruciating economic pains brought by its harsh implementation.
Despite the bad shape of the economy and the pressure it brought on him, Rawlings still survived in power. To assuage the pressure, he decided to remove his military uniform and transformed himself into a civilian president through an election. So, on November 3,1992 he organised another election that brought him back to power - this time as an elected president on January 7, 1993 in what became known as Ghana's 4th Republic. He won a second term and served in office until January 7, 2001 when he was constitutionally barred from running for office again. In all, he had ruled and governed Ghana for over 20 years. He was succeeded by his former political foe John Agyekum Kufuor.
He is survived by his wife Nana Konadu Agyeman, whom he met while they were both students at Achimota College. They have three daughters, Zanetor, Yaa Asantewa, Amina and one son, Kimathi.
It is not known what epithet historians will write for Rawlings who in life, and even in death, divided opinion about himself in equal measure. But if history will be kind to him, the man they fondly called "Junior Jesus" will be remembered as the Messiah who gave Ghana back the democracy that has so far lasted.
Comment on this story