SHEHU SHAGARI (1925-2018)*
07/18/19, Kayode Soyinka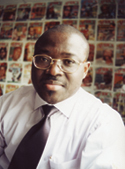 From the onset, Alhaji Shehu Shagari, who won the 1979 Nigerian presidential election, although the verdict was controversial, never gave the impression of being a man who had clear idea of what government was all about.
If anything, he appeared to be the reincarnation of Prime Minister Abubakar Tafawa Balewa: purposeless, weak, and even to some, lazy - characteristics not surprising in a man who, after all, had never courted power and wanted only to be a senator. In the way he operated and performed as president of Nigeria, it was clear that what President Shagari found most attractive was the pomp and pageantry that came with leadership.
General Olusegun Obasanjo, who handed over the reins of power to him, said of him, in his book, Not My Will: "He was pushed into power by those who wanted to make use of him and he was unfortunately too weak, and somewhat ill-prepared for the trappings of political power to check the abuses of his power by those who made use of him."
Shagari himself later demonstrated his lack of confidence in government when he made his famous remark to the effect that, in reality, there were only two major political parties in Nigeria during her Second Republic: the civilians on the one hand and the military on the other.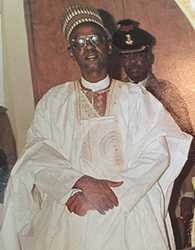 Because he inherited a healthy economy and because, like former Head of State, General Yakubu Gowon, the oil boom really was a real boon for him, Shagari saw his problem not as earning money for the country, but as not knowing what to do with it.
When he came to power October 1, 1979, the price of oil was $40 per barrel on average and the production level was two million barrels per day throughout 1980 and the beginning of 1981. The price of oil had jumped from about $14 per barrel in the third quarter of 1979 to $40 per barrel in the first quarter of 1980. In 1979/80 Nigeria's revenue was estimated at N12.272 billion (about £9 billion), to which oil contributed about N9.489 billion (£7.6 billion).
Politically, in the first two years of his administration, Shagari enjoyed reasonable amount of goodwill. His ruling National Party of Nigeria (NPN), which called for a government of national unity, succeeded in getting Dr Nnamdi Azikiwe's Nigerian Peoples Party (NPP) to join it to form a government. This relative support and goodwill, which Shagari received from the electorate, despite legal arguments in court about the validity of his victory at the poll, was partly due to the Nigerian people being genuinely fed up with the military rule of the past 13 years and wanting to give civilian rule a chance. Unfortunately, it turned out that Shagari, despite all the years he had spent in the country's public service, both as a senior politician and in government, with several key ministerial feathers in his cap, really had little inkling of modern politics and economics.
Lacking a sense of history or of Nigeria's destiny, the Shagari government threw overboard the cost-cutting measures of its predecessor and began to wallow in profligacy. "The financial recklessness of federal and state governments inevitably resulted in the depletion of an already low revenue (resulting from a fall in oil production and price of crude), high debts, inflation, unemployment, factory shut-downs, food scarcity and general disenchantment," wrote Nigerian commentator Ray Ekpu in the October 1984 edition of Africa Now. In short, Shagari's NPN government of October 1, 1979, to December 31, 1983, was the epitome of political and economic mismanagement in Nigeria of that era - a government that had killed the country's economy and politics in its first four-year term. What made matters totally hopeless was that the government engineered an incredible elections fraud in 1983 to ensure his re-election.
It was no surprise therefore when Nigerians woke up on the last day of the year 1983 to discover that Shagari's government had been swept away, there were few mourners. The new military government of General Muhammadu Buhari needed no great oratory to convince Nigerians that the fallen government had been a monumental disaster; almost everyone, except for a few party faithful who profited from the decadence, had felt the rottenness of the government in his bones. As the soldiers broke open warehouses and stores of essential commodities, rice, milk, sugar, cooking oil came tumbling out in large quantities and Nigerians began to dance in the hope that an era had come when such commodities would be both available and affordable.
Even in the last period of his reign, luck was still on Shagari's side. It had been said that a certain section of the military actually contemplated removing his government as early as March 1980, but that wiser counsel prevailed, namely that the 1983 elections should be allowed to go ahead. What happened during those elections finally provided enough justification for the removal of the government. In his second coming, Shagari provided further evidence of his lack of will and direction. To say that the massive corruption by members of his party and government was the reason for the New Year coup is to miss the point; that was just the symptoms of the cancer that was killing the country. Shagari was just an inept leader and uninformed.
Wrote Dr Ibrahim Gambari, Nigeria's foreign minister under General Buhari: "The issue of large-scale corruption severely damaged the reputation of the operators of the political system. Although this was not a new issue in Nigeria, the nature of the new presidential system and the increase in oil-based revenue accruing to the federal and state governments, especially in the early 1980s, helped to elevate corruption to new heights. Corrupt practices became pervasive at local, state and federal levels, especially in the award of contracts and the manipulation of the import-licensing system. When these practices continued without much regard to declining government revenue, they poisoned the social and political climate, since ever fewer funds were made available to maintain, let alone develop, social services and related institutions. It was not long before essential medical services and the educational systems degenerated and were on the verge of collapse. Social tensions were heightened and antisocial behaviour of the underclass increased very rapidly."
Dr Gambari, in his book, Theory and Reality in Foreign Policy Making: Nigeria After the Second Republic, maintained: "The elections of 1983 were not conducted in an atmosphere of freedom or with fairness. On the contrary, they were accompanied by serious abuses, blatant malpractices and communal violence. In view of the ethnic pattern of support and voting by the general public, the claims of 'victory' by one party in the traditional strongholds of the others stretched credibility to the limit and led to outbreaks of violence. The resulting bloodshed and confusion damaged the reputation not only of the law enforcement agencies, which were often part of the problem, but also of the federal government and politicians in general."
This was the situation in Nigeria when, on the eve of the New Year 1983, there was another military coup d'état that removed the Shagari government. It was the fourth successful military takeover in Black Africa's most dominant power. However, unlike the ones before it, this coup did not come totally as a shock. It was one coup that was self-evident.
The decision of the military to govern again on the eve of 1984 was ostensibly a patriotic and altruistic one: to save the country from what they perceived as the monumental scale of corruption and economic depravity in the civilian administration. Even allowing for some measure of sincerity in these intentions, it does not rule out another motivation, rooted in the historical trends, political development, ambitions, and fears extant in post-independence Nigeria: in short, in the on-going North/South geo-ethnic rivalry.
One result of the 1967-70 civil war was the de facto establishment of the Northern hegemony within the army's corps of senior officers who aimed at ensuring that this would be maintained even during a civilian administration. However, the dominance of the North both as a united political entity and, increasingly, over the economy during the military administrations from 1966-79 was being seriously challenged from the South under the civil administration of Shehu Shagari (Northerner though he was).
When the 1983 election result gave Shagari both a second term and made his NPN the pre-eminent party, not only in the North but in majority of the Southern states as well, the worst fears of these top-ranking officers were confirmed. They could foresee that in the next presidential elections in four years' time, the NPN would fulfil what was written into the party's constitution, namely: the selection of a presidential candidate from among the faithful in the South. Indeed, the NPN's Southerners made no attempt to conceal this aim and immediately after the 1983 elections jockeyed for federal positions in Shagari's new government.
Shagari had consolidated the Northern officer hegemony by encouraging Moslem Hausa/Fulani promotions (in preference to Southerners and Christian Northerners) by making appointments to coveted commands and awards of lucrative contracts to retiring officers of the same ilk. Despite this, a ruthless, single-minded cabal of Northern officers decided that the danger of their power base being eroded by a Southern-dominated administration with mass popular support (probably including that of the junior officers and rank-and-file in the armed forces) far outweighed any loyalty they owed to President Shagari. These were the more compelling reasons why Major-Generals Buhari and Babangida, with nine other senior army and air force officers, laid their plans stealthily and efficiently for the successful coup of December 31, 1983.
Successful though the actual coup undoubtedly was, in order to gain legitimacy, the generals depended heavily on whatever support they could coax from the people. One of the numerous ways they went about this was to arrest former civilian politicians and lock them all up in different jails around the country. Show trials were staged before military tribunals at which they faced charges of corruption - an attempt by the regime to retrieve the ill-gotten gains the politicians had acquired when in government.
The Buhari regime put the main blame on the politicians for the ravages on Nigeria's treasury and on one man in particular: UMARU DIKKO.
 FAILED ATTEMPT TO FIGHT CORRUPTION
When Shagari's victory at the polls in the 1983 Presidential election had been declared, it was widely expected that he would do something about corruption under his administration. From the beautiful plateau holiday resort, the Yankari Games Reserve, in northern Nigeria where he had been in retreat, Shagari made a speech strongly condemning corruption. The speech came to be known as Shagari's "Sermon on the Plateau" and it was widely thought that some heads would have to roll among his ministers. All eyes were particularly on Dikko who had by then gained notoriety for his presumed corruption. But only lightweight ministers were eventually sacked from the cabinet. Dikko not only remained in the cabinet, he retained his very powerful political influence, authority and power on the Presidency and government. The New Nigeria, with a characteristically slick paraphrase of a cliché, dubbed the sacking as "The Night of the Short Knives".

Shagari had set up a Code of Conduct Bureau to, in his own words, "maintain high standards of probity in the conduct of public officials;" he had appointed a special Tribunal of Enquiry into the alleged misappropriation of N2.8 billion from the Nigerian National Petroleum Corporation (NNPC) under the Obasanjo regime. But, for all his good intentions, perhaps he should have paid more attention to a famous Islamic reformer of the early 19th century who founded and lived in his own hometown and state of Sokoto and with whose works he was certainly familiar. This was Uthman Dan Fodio whose advice to any Caliph (high in the ruling hierarchy) included: "It is quite likely that it is about his officials that people wish to complain: he must therefore listen to them. If he doesn't then he can be compared to a herdsman who, rather than guarding his herd, holds the cow (in this case, the people) by the horns to help the thief (his officials) steal the milk (his people's wealth)."

Shagari never believed all the accusations of corruption levelled against Dikko or, for that matter, against any of his top ministers. For him to have acted decisively against any minister, he needed cast-iron evidence of that minister's corruption, which nobody was able to produce. Despite the fact that a minister like Dikko had become increasingly unpopular in the eyes of the people, Shagari found it difficult to drop him from his cabinet. President Shagari trusted his ministers as surely as he trusted his own integrity. As President, his own honesty was never in doubt. He could be compared to Sir Milton Margai, the late prime minister of Sierra Leone who, when he died in 1964, owed money to the bank - he left an overdraft. Indeed, as Commissioner for Finance under General Gowon, Shagari himself had sought and obtained an overdraft. The bank manager had actually written asking him when he intended becoming solvent again. If a Nigerian Federal Commissioner for Finance, at the time his country was enjoying an unprecedented oil boom, had incurred an overdraft, which he was having difficulty in settling, surely he must have been an honest man.

But Shagari, while he was President, was deluded into trusting people whom others viewed as dishonest. His tragedy was that, had he survived his second term of office, he might have proved that he was his own man instead of being the prisoner of his party, as he undoubtedly was during his first term.

But Dikko, his campaign manager in the Presidential election of 1983, was one man who would defend the former president till the last. "Whatever any Nigerian may say, no matter how biased he is, one thing he would have to admit is that Shagari is a good person. He was not a dictator. He is a fair-minded man who meant well for Nigeria. Under his regime, whether or not you voted for him, you were not denied your entitlement as a Nigerian. He did not win in all the states of Nigeria but, despite that, there is no state where they can say they were totally excluded from the affairs of the country. Under Shagari we had the greatest chance in Nigeria, the best opportunity that ever came to us, to be welded into a nation, where you don't think of yourself as a Yoruba or as Hausa/Fulani or as an Ibo; where you think in terms of belonging to this or that party. That is called advancement, politically. That was the road on which Shagari put Nigeria, only to be treated the way he was treated," Dikko told me in an interview while in exile in London. l

*President Shehu Shagari died on December 31, 2018, at his home in Sokoto. This tribute is adapted from my book: DIPLOMATIC BAGGAGE: MOSSAD & NIGERIA - THE DIKKO STORY.
Comment on this story