A NEW TRACK SENSATION
02/16/23, Bunmi Akpata-Ohohe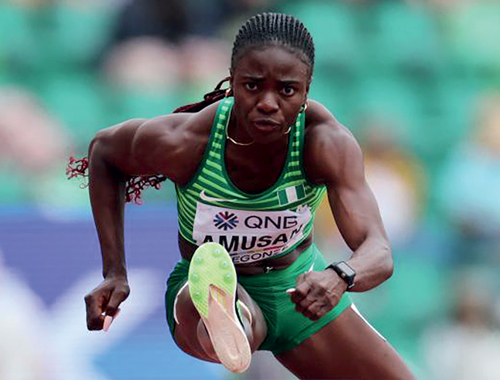 Nigeria's track pacesetter Tobi Amusan, is a world record setter and toast of the athletics world.
Tobi Amusan is a name on the lips of many around the world now. She is the Nigerian athlete, 100 metres hurdler, who stunned the world and sprang into global reckoning as an instant celebrity when at the 2022 World Athletics Meeting in Eugene, Oregon, United States, she shocked the world by breaking the world record in women's 100 metres hurdles - and she did it twice in a night!
And yes, she is a Nigerian. A very proud Nigerian. Born and bred in Ijebu-Ode, Ogun State, southwest Nigeria. She went to a mission school there. And it was from there that she started showing interest in sports - even though her father didn't want her to take up sports. Typical of Nigerian parents who would always prefer their children to read law, medicine, engineering, and other elite courses. But Tobi persisted. She would not give up on her talent. She kept her sporting interest alive, and she was encouraged by her mother.
Her full name is Oluwatobiloba Ayomide Amusan. She's 25-years old. Her development was a gradual process. And what is remarkable about her is her jolly-go-free attitude, full of excitement and absolute confidence. And added to these attributes is her humility. She has been threatening at several international meetings to one day break the world record in women's 100 metres hurdle. She exuded confidence when asked if she would. Her response was admirable: "unknown now, but soon I will be unforgettable, I will persist until I succeed." And boy! Didn't she succeed?
In Oregon, in one single night, at the July 14-24, 2022, meeting, she succeeded with a world record breaking time of 12.12 seconds, breaking the old record of 12.20 seconds held by the American Kendra Harrison since 2016 and shaving off 0.08 of a second. Shaving off 0.08 is no mean feat in world athletics.
It was Nigeria's first gold medal in world athletics meeting. The first time the country's flag will be hoisted, and national anthem sang to the admiration of the entire world. One fan, having listened to the Nigerian anthem while the emotional Tobi was on the podium with her gold medal around her neck, with tears of joy streaming down her cheeks, said she thought "God Save Our Gracious Queen" was the best national anthem in the world until she heard the Nigerian anthem.
Tobi, the golden girl, made Nigeria proud. Young girls in Nigeria and across Africa now have an athletics role model on the international stage. They want to be the next Tobi Amusan. Great athletes from around the world eulogised her: "Wow," tweeted the great Jamaican track and field Olympic champion Usain Bolt. And 200 metre champion and American record holder Noah Lyles tweeted, "12.12" are you kidding me"?
What made Amusan's gold medal victory even more stunning was that the time she clocked in the final at Oregon blew off her 12.12 seconds which was recorded in the semi-final that took place earlier on that day. She amazingly broke her own record, set a few hours earlier, by recording an unbelievable 12.06 seconds in the final. Unfortunately, the 12.06 seconds couldn't stand because it was judged to have been wind-assisted. To prove that her victory in Oregon was not a fluke, Amusan did a repeat performance at the 2022 Commonwealth Games in Birmingham, England, were she also won the gold medal, defending her record and setting a new games record for 100 metres hurdle of 12.30 seconds, eclipsing the 16-year-old 12.65 seconds games record set by Jamaica's Brigitte Foster-Hylton in Melbourne, Australia.
Amusan is now the reigning 100 metres hurdles World, Commonwealth, African and 2022 Wanda Diamond League champion; and her 12.12 seconds set in Oregon has officially been ratified as world record by the World Athletics Federation. She became $100,000 richer too by winning the gold in Oregon. And she has been recognised back home in Nigeria with National Honour awarded her by President Muhammadu Buhari.
Comment on this story