BIA brings the world closer
01/27/22, Biodun Omojola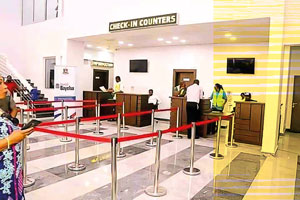 Above: Check-in at Bayelsa International Airport
Bayelsa's capital city, Yenagoa, has its own brand new and functioning airport. Now Nigeria's economic and political capitals, Lagos and Abuja, respectively, are just an hour away.
IIt won't be wrong to immediately think of mangrove forests, swamps, creeks and meandering rivers at the mention of Bayelsa State. They do exist in the state that gives Nigeria almost 40 percent of its hydrocarbon resources. They are clearly visible coming into Yenagoa, the state capital, by air. Bayelsa's topography is laid out like a patchwork carpet as far as the eye can see, especially as the aircraft banks left to land at the new Bayelsa International Airport (BIA). BIA is the newest airport in Nigeria and despite its young age, it has been quick to achieve impressive milestones. Neat, idyllic and sitting on a huge expanse of land surrounded by nature, the airport is a study in tranquility. Not seen there is the rowdiness that characterises most Nigerian airports.
Building the airport took some engineering ingenuity. Sited at Wilberforce Island, Amassama, about 30 kilometers south of Yenagoa, it took about six years - from construction to initial try out - to achieve. Two successive administrations completed the airport project, which itself is a wonder in Nigeria. The resource-rich west African nation is a country of abandoned projects. No project is too huge or too important to be abandoned in this immensely rich country. But BIA is an excellent study in collaborative efforts. Conceived by the past administration of Henry Seriake Dickson, it was completed by the current administration of Douye Diri, who ensured that everything to make it a functional airport was put in place, including getting its operational licence in double quick time. The BIA project proves that collaborations are possible despite challenges, especially natural ones, which are abundant in the state.
If there was ever a place where an airport should not be built, that place is Yenagoa. It's topography - indeed that of the whole state - is different from that of any other Nigerian state. Due to its proximity to the sea, it has a shifty land base making construction extremely difficult. Construction is not only expensive - engineers have said to build in Yenagoa, it takes 10 times more, in effort and in capital, than in other states - but takes some engineering ingenuity. For the airport, an extensive excavation of the topsoil was done. Reaching hard ground, the contractors began filling it up, surpassing the actual ground level. This was done because of the 2012 flood that devastated parts of Nigeria, including Bayelsa which suffered most from the flood's impact because of its proximity to the Atlantic Ocean. The state has the longest coastline of any Nigerian state and the widest access to the ocean. While the flood was a tragedy, it, however, gave an insight on how engineers, tasked with constructing the airport, could do their work. BIA is sitting on reclaimed land just like the Tokyo International Airport and because of this, airport's runway is safe from flooding.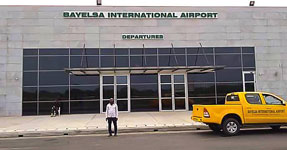 Bayelsa Terminal
Conceived as a cargo airport, the exigencies of a growing metropolis made the government change the concept and turn it into a passenger airport. And the result is encouraging. Hitherto, to reach Yenagoa, one had to fly to the Port Harcourt airport in nearby Rivers State, then drive for over an hour and a half to Yenagoa. There is an affinity between both states. Before its creation in 1996, Bayelsa was part of Rivers State. Even with its creation, it remained an appendage of Rivers State before successive governors decided Bayelsa must stand on its own. The BIA is a reinforcement of that commitment. It was to have been a federal project. But when nothing was forthcoming, the former governor Henry Seriake Dickson decided, "well we can't keep waiting for the federal government; let's do our thing." And so, the project commenced.
That can-do spirit is what Governor Diri has built upon and the airport is now a done deal.
For watchers of the state, it is not surprising. There are various federal government owned road projects in the state that are as old as Nigeria that have remained uncompleted. These projects Governor Diri has vowed tackle because of their importance to the socio-economic development of the state
Although funding was not easy, the commitment to start and complete the project has turned out to be a major blessing for the state. For one, Yenagoa is now less than one hour away from Lagos, Nigeria's financial hub and Abuja, its political capital. Former governor, Dickson made sure the project got past the planning and ground-breaking stage, that stage where huge projects tend to stall and get abandoned. He acquired the land, paid compensation to the indigenous settlers, started its construction, finished and commissioned it, February 10, 2020, just four days before Diri's inauguration. Governor Diri, however, ensured that all operational equipment required for a functional airport was procured and soon after the Nigerian Civil Aviation Authority (NCAA) had it certified. By April 2021, it was granted full commercial flight operational licence. In issuing the licence, the regulatory agency commended the state government for the quality of work done at the airport and the available personnel.
Governor Diri
Governor Diri spared no effort to achieve the NCAA certification. It won't be wrong to say he delivered the airport, given all he provided in terms of operational and safety equipment. Security too tops the agenda at the airport. The airport was constructed with a view to be an international airport. Although BIA's certification is for domestic operations, what is on ground at the airport is of international specifications, suggesting the state has an eye for international air travel operations in the near future. The airport's runway is as long as is wide - 3.5 kilometers long (about 11,599 feet). A CAT II airport, BIA's apron can accommodate six aircrafts and has the proverbial Instrument Landing System to assist aircrafts land in difficult weather. The tower is fully equipped with up to date instruments and staffed. All the agencies needed in a functional airport are domiciled at BIA: NIMET for the weather, NAMA for air traffic and relevant security agencies including the navy, police and its anti-bomb squadron and civil defence corp. The airport has a fully staffed medical clinic, ambulance, fully equipped and well-staffed fire service.
With air service now available, there has been an uptick in business, tourism and wealth generation in the state.
BIA becoming operational on the watch of Governor Diri fits perfectly into his Prosperity Agenda, as economic development sits atop of his agenda and the airport will certainly serve as a driver for this. For instance, on the aviation side, BIA can be used as a refueling dump, an aircraft maintenance service depot and a cargo warehouse. It can also serve as a duty free shopping hub.
As Governor Diri said, "Bayelsa State is a major contributor to the oil and gas business in Nigeria. Bayelsa is the centre not only of oil and gas but also other economic activities within the south-south and the south-east. So, the Bayelsa airport is critical not only to Bayelsans but indeed the people of the south-south, south-east and by extension the nearby countries. We are at the border with the Gulf of Guinea."
Comment on this story