HIGH WIRE POLITICS IN NIGERIA
09/03/18, Kayode Soyinka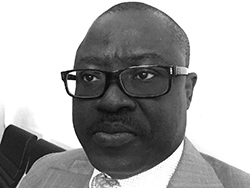 The campaign billboards are finally out. It is election season once again in Nigeria. Nowhere in the whole of Africa is election time such a time-stopper and time for national introspection. The whole country is already agog with election talks. From market women in the vast markets around the country, to the "area boys" struggling to make a living for themselves on the streets of mega cities like Lagos, Abuja, Kano and Port Harcourt, the talk around the country is all about whether President Muhammadu Buhari should remain in office, or be replaced, and return to his village in Daura on May 29, 2019.  
Nigeria remains a country no one can easily wave away. No matter what one says about Nigeria, one thing that cannot be taken away from this enigmatic country is that, with all its contradictions, it doesn't stop to excite. It is an African country with influence around the world. Its  influence is evident, not through its political leaders, but in the amazing exploits of its talented citizens, not just in Africa, but round the world. Example: One of them is Adebayo Ogunlesi. His father was the first professor of medicine in Africa. Ogunlesi owns Gatwick Airport, the second busiest international airport in the United Kingdom. He also owns two other UK airports, Edinburgh and the City airport in London. When UK citizens, with all their endowments, proved incapable of running their airports, this smart Oxford and Harvard trained Nigerian, has come up with the magic business formula to rescue their airports for them. And this is just one example of the good things Nigerians have been, and are still, doing around the world. Just take a look around your hospitals and count the number of Nigerian medical doctors and nurses employed there. 
When people around the world say all sorts of things to put Nigeria down, I always ask them to spare a minute and be sincere with themselves and show a little appreciation for this African country that has come to give support when called upon and comes to the rescue, at difficult times and times of need, of countries such as South Africa, Liberia, Sierra Leone, Congo, Zimbabwe, Angola - countries, especially in Africa too numerous to mention. Whether it was fighting apartheid masters in South Africa, or the settler-gang white rulers in Rhodesia and training their citizens in Nigerian educational institutions and military academies. Or sending Nigerian soldiers to intervene to stop brutal civil wars in Africa and around the world, through its peacekeeping operations, which is well appreciated by the United Nations, Nigeria has always been there. It has proved to be a country with a very large heart, that can always be relied upon. It is curious, however, that its true leaders are not those who have been given the mandate through elections to rule the country, but the legion of Nigerian professionals, in different fields of human endeavour, who are scattered around the world doing great things in their host countries and making their country proud at the same time. This is great credit to Nigeria, which must be recognised and appreciated. 
Unfortunately, however, the brilliant performance and success abroad of these Nigerians have not been replicated at home. Good leadership and governance have continued to elude the country since independence. The so-called political leaders in the country have deviated completely from the vision of the founding fathers, such as the Great Zik of Africa, Dr. Nnamdi Azikiwe, Chief Obafemi Awolowo and the Sardauna of Sokoto, Sir Ahmadu Bello, who fought for independence and led the old Eastern, Western, and Northern Regions of Nigeria respectively. Today's political leaders have abandoned the selflessness in public service of the founding fathers and have shamelessly adorned the gabs of selfishness and unprecedented greed - even in some cases they carry on with undue arrogance and lack of compassion for the ordinary people they are supposed to lead and serve, as shockingly  demonstrated recently by one of the governors of the southwest states, who has an unbelievably caustic tongue. These politicians control the two main political parties in the country. In fact, there is no difference now between the ruling All Progressives Congress (APC) led by President Muhammadu Buhari, and the opposition Peoples Democratic Party (PDP). In Nigeria, politicians from both parties shamefully cross-carpet whenever it suits them to do so. The country has been entertained with such defections from both parties recently. 
But there is an encouraging sign, however, that despite its developmental challenges, Nigeria is growing its democracy. No doubt, the country has changed markedly from the days of military rule. The people now enjoy more freedom to express their feelings and protest the excesses of government. When you encounter women in market places discussing so passionately about the state of the nation, speaking their minds freely without fear of arrest; when you see a woman member of Parliament take on a heavily armed security agent with his face covered up, as if to send signal of fear and terror, that has been drafted to close the gates of the national parliament as it happened last month, one cannot but be filled with some hope for the survival of democracy in Nigeria; and come to the conclusion that Nigerians, when the chips are down, will rise up and fight for the democracy they fought for through their sweat, tears and blood. 
I can tell you, with what I have seen on ground and what I have heard from the people I have spoken to on my recent trips to Nigeria, both ordinary citizens and people in high places, that there is indeed still inherent democracy in the temperament of the Nigerian nation. And there is presently a genuine yearning for change of the leadership nationally. It will be known in six months whether that change will happen. But, meanwhile, the billboards of leading presidential aspirants are already out across the country. On my way out of both Abuja and Lagos airports, I saw "Buhari 100%" on the billboard of the incumbent president. I also saw "Our history. Our heritage" - that's the billboard of former Foreign Minister and Governor of Jigawa State, Sule Lamido. Another one that I saw which attracted my attention most is that of Kingsley Moghalu, a former journalist and former deputy Governor of the Central Bank of Nigeria who has thrown his hat in the ring on a "Not too young to run" platform. So, Kingsley is saying to Nigerians, "It is time!" He is one of a few brave young men who have come out to do an Emmanuel Macron and challenge the political establishment for the leadership of their country. Whether they will succeed or not in this adventure like the French president, we will know very soon. But their involvement has undoubtedly introduced a new excitement into the presidential race.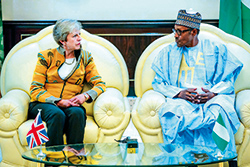 British Prime Minister Theresa May with Nigerian President Muhammadu Buhari in Abuja. The Nigerian market is central to UK's post-Brexit calculations
The election comes up February next year. By December all official presidential candidates will be known. But who will win this election is up in the air. From all indications, the election is for Buhari to lose, because he is the one that is under tremendous pressure to quit office and hand over to a younger and healthier person. Nigerians will like that, and even the international community that has been associated with discreet moves for regime change in any country they want it, I understand, is now giving some signals that they too would like to see that now in Nigeria. Key western allies of Nigeria have sent emissaries to Nigeria to gauge the political temperature and temperament of the country. Buhari is old and he does not enjoy good health. He spends considerable period of time in London to attend to his health. This time around, he will most certainly have a challenger from his own northern stronghold, which will whittle down his northern support base at election time. The country has stagnated economically in the past three-and-a-half years, although it has grown its external reserve to $47 billion dollars this year - the highest in Africa. And the exchange rate has been stable in the past year or so. The strongest the Naira has been since the Buhari administration came to power was towards the end of August. But it happened not because of marked improvement in the economy but more because of the uncertainty in the British economy caused by the intractable Brexit negotiations. Nigeria, under Buhari, still suffers from massive unemployment, especially of the teeming youth population. As a result, the youth are improvising and in some cases, the harsh economic climate has challenged them to bring out their creativity and entrepreneurial acumen. 
The opposition PDP is still shopping for a candidate that has enough electoral value to beat President Buhari. The opposition party, which ruled Nigeria for 16 years before it was defeated in 2015, is a shadow of its former self. It still hasn't got over the shock of losing the 2015 presidential election. It has been trying to regroup and re-strategise. However, it appears that it may not have done enough and the election is only six months away. PDP still has a remote chance though of staging a come-back, which would depend heavily on who they choose to be their presidential candidate to slog it out with Buhari. 
Nigerians are presently asking for a youthful president that can handle the security challenges that Buhari inherited, but which he has not been able to completely solve. Many people have been killed under Buhari's watch in clashes between Fulani herdsmen and farmers across the country, most especially in the middle belt. Being a Fulani himself, many believe these wanton killings will not stop until Buhari leaves office. The killings have reached such a terrifying scale to make some describe it as ethnic cleansing. Nigerians also require a president that, like Buhari, would fight corruption but, at the same time, find solution to the economic problem the country has been going through. 
If the PDP can come up with a candidate that is more appealing to Nigerians because he is better equipped to handle these challenges, Buhari might find it difficult and be given a good run for his money. His current situation is like that of the Good Samaritan who should not come with good intentions alone but must deliver some goodies as well. Nigerians have been patient, they have given him over three years to perform and deliver on his promise for "Change". His political fate is now in their hands. And they will decide it come February 2019 on the basis of whether they are better off today than they were when they elected him to lead them in 2015.
Comment on this story