A STAR IS BORN
07/18/19, Bunmi Akpata-Ohohe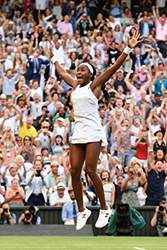 New women tennis sensation Coco Gauff
The tennis world has discovered a 15-year old teenager, Coco Gauff, who's fearless and plays like an old pro. She's the new sensation the tennis world is talking about.
Wimbledon 2019 has lived up to its billing as the theatre of dreams, where new stars are born and the larger-than-life old stars are sensationally dumped into the dustbin of history. This was exactly what happened on the very first day of this year's tournament, when a precocious 15-year-old from the United States announced her arrival at the famous All-England Tennis Club, and on the very Centre Court where legendary players had left their footprints. She gave no respect whatsoever to five-time champion Venus Williams as sent her packing by beating her in straight sets, in the first round.
If you don't know or have never heard of her name before, register it in your head now. She is Cori 'Coco' Gauff, certainly now a phenomenon as a teenager who came to upset the Wimbledon applecart by becoming the youngest player ever to qualify for the main Wimbledon draw since the Open era began in 1968..
And what an upset she recorded on her first day on the world-famous turf? At just 15, she recorded one of the biggest shocks in Wimbledon's rich history by bumping out her fellow American idol and five-time Wimbledon champion 39-year-old Venus Williams..
The feat was unbelievable to the world of tennis. And questions were immediately asked: Is this a champion in the making or just a flash in the pan? Well she backed up her sensational victory's by winning her second and third round matches..
Whether she goes the whole hog and win the championship or not, what is certain is that Coco has suddenly arrived at the centre stage of world women's tennis. She has left a maker and become a global star. The world is waiting with bathed breadth to see if her Wimbledon fairy-tale would continue. "I'm still shocked I am even here," the innocent-looking girl told the world press. .
Cori 'Coco' Gauff's amazing story should be an inspiration to many young talented girls and boys, out there around the world, who want to play tennis or engage in any kind of sport. To put it in perspective what she has achieved here at Wimbledon: She's just 15 years of age, and ranked way down at 313th in the world. She was playing in her first grand slam match after fighting her way through qualifying rounds to get to Wimbledon.  Thus to walk on to that majestic and newly refurbished show-court No.1, an intimidating ground even for experienced stars, to face Venus Williams, a player who had already won four grand slams before she was born, and one of the all-time greats of women's tennis, in such a big arena; a player whom she idolises and her inspiration for playing tennis, Coco just defied all that and defeated Venus in straight sets, 6-4, 6-4. .
There were ample opportunities for her to get tense and panicky. On the contrary, Coco settled into the match like an experienced pro and made a jaw-dropping Wimbledon debut, catapulting herself into the Women's Tennis Association (WTA) history books as the youngest tennis player to win a match at Wimbledon since 1991 when fellow American Jennifer Capriati, 15, defeated nine-time champion Martina Navratilova..
Is beating her idol only the start? In her post-match press conference, smiling Coco Gauff said: "I literally got my dream draw, so I'm just super happy I was able to pull it out." .
On Venus performance: "She played amazing, was just super nice. She's always been nice the couple of times I met her."  Coco continued: "She said good luck and I told her thanks for everything she did. I wouldn't be here if it wasn't for her. I told her that she was so inspiring and I've always wanted to tell her that, but I have never had the guts to before." .
Atlanta-born "Coco" has often spoken of how much both Williams's sisters inspired her when she was growing up. She idolises both sisters, Venus and Serena, so when she was drawn against the elder of the two in the first round, the attention on her grew further. There have been other young talented American womenfolk of colour who picked up tennis racquets or had them placed in their hands by fervent dads, because of the Williams sisters. .
Venus, who's now ranked No. 44 in the world, and who won the first two of her five Wimbledon singles title before "Coco" was born, was characteristically cordial in defeat. "I think the sky is the limit," she opined.  And Serena believes Gauff can now become a symbol to other young girls too. "Honestly, I feel honoured that I was on her wall at some point in her life. Soon she'll be on other girls' walls. It's nice, because it will keep it going from the next generation to next generation," said Serena..
Remarkably Gauff has a lot in common with both grand slams champions. She grew up in Atlanta, Georgia, in the United States, before moving to Florida to pursue tennis. The Williams sisters grew up in Compton before they moved to Florida to pursue tennis.  .
Her father Corey coaches her. Venus and Serena used to be coached by their parent, Richard and Oracene. It's been widely reported that Coco's father, Corey, a one-time basketball player drew on Richard Williams's model in developing the tennis talents of his daughter. And, most noteworthy, Coco is being helped by Serena Williams' current coach Patrick Mouratoglou. How cool is that? When asked about what she can achieve in the sport, the teenager wondered and said she has been given a target to "be the greatest". "My dad told me that I could do this when I was eight," The Williams sisters were also set a goal to "be the greatest". Richard Williams also told his girls they could do this when they were seven and eight.  Apart from beating top seeds and being beating themselves, it is worth pointing out that this has happened multiple times with the Williams sisters. At the post-match conference, fading Venus said that she planned to be back at Wimbledon next year, but her voice was choked and whispery. Ironically, Venues lost in the first round at this year's French Open too; and she is drifting out of the top fifty. So, what next for our classy lady of tennis?.
Apart from Venus's sensational exit from this year's Wimbledon, there was another thunderbolt day one exist; that of former world number one, Japan's Naomi Osaka, 21, current US open and Australian Open champion, who was on the verge of tears during her post-match press conference in the wake of her surprise 7-6 (7-4) 6-2 defeat to Yulia Putintseva, 24, of Kazakhstan. As climbs to the top go, Naomi's has been meteoric as she rocketed to the pinnacle of women's tennis by winning back-to-back grand slam titles courtesy of energetic triumph over 23-time majors winner Serena Williams at the US Open final in September 2018 and victory over world No. 6, Petra Kvitova at the Australian Open singles final in January. .
Since that victory, Japan's first grand slam singles champion's form has dipped. She has only reached one semi-final and also lost her 2019 top ranking to French Open winner Ashleigh Barty. .
The Japanese, who only 12 months earlier had been ranked No. 72, became the first Asian player to occupy the No. 1 spot and the youngest since Danish Caroline Wozniacki in 2010.  But when asked at the post-match press conference if becoming a global superstar had affected her game, she asked the press conference moderator, "Can I leave? I feel like I'm about to cry." She was given the green light and duly left.  Osaka has to go back to the drawing board as she seems to have her confidence..
New names are emerging in the tennis world and threats to established names from everywhere are increasing.  All eyes are also on another young pretender and champion in the making, 18-year-old Canadian sensation, World No. 21, Felix Auger-Aliassime, who secured his maiden Grand Slam win on the first day at Wimbledon. He came from a set down to beat fellow countryman and former world No. 25 Vasek Pospisil 5-7 6-2 6-4 6-3.  The teen prodigy, a resident of Monte Carlo, Monaco, said: "For any player to get his first Grand Slam win is a big relief, and it's a good achievement for me. At the same time with the level I'm playing now and my ambitions, I look forward and I look to go even further than that." At press time, the 18-year-old wonder-boy from Montreal, had defeated Frenchman Corentin Moutet, 6-3. 4-6, 6-4, 6-2 to advance to the third round. Tennis, is seems, is nurturing new successors in these breakthrough youngsters.
Comment on this story