EXIT OF A TITAN
01/06/21, Manasseh Azure Awuni
Jerry John Rawlings ISSOUF SANOGO / AFP
The late "Junior Jesus" Rawlings was a complex and larger than life character who has divided his nation even in death. In this pen portrait, Manasseh Azure Awuni unveils a complex man, a man of contradictions, loathed and loved in equal measure, but a man who left an indelible mark on Ghana's political life.
In his prime, even his closest confidantes rehearsed their words, audited their thoughts and measured their steps before approaching him. From afar, he was loved and hated. Within his circles, he was feared and revered.One of the first people Jerry John Rawlings invited to see him when he announced his military takeover of Ghana in the 1981 coup d'état on Radio Ghana was Professor Kwamena Ahwoi. In his book Working with Rawlings, Prof. Ahwoi recounts an incident in the early days of the coup when the regime was threatened because the trial and executions of wrongdoers attracted national and international condemnation. A powerful delegation of Rawlings' appointees met him one early morning to "plaintively and politely" appeal to him to end the execution.
"Rawlings had been looking out of his Castle office window all the time that we had been talking," Ahwoi recounts. "When he sensed that there was a pause, he turned around and asked: 'Is that all you came to tell me? Have you finished? Then get out.'
Tails between our legs, we hurriedly fled from his office, unsure whether we had succeeded in our mission or not. Jerry never mentioned the incident, but there were no more executions."
In his last days, however, Flight Lieutenant Jerry John Rawlings (Rtd) was the polar opposite of his former self, a tamed impersonation of the unpredictable lion that he had once been.
He was very accommodating as a former president. Diplomats, local and international politicians met him. Boxers and other sports icons went to present their trophies to him. He met with media personalities and celebrities. He attended state functions and private engagements regularly. He was even a guest on a celebrity cook show on TV.
When the military leaders of Mali finished meeting with the Economic Community of West African States (ECOWAS) in September 2020, they paid a courtesy call on J.J. Rawlings before flying back to Mali to implement ECOWAS' directive to the military to hand over power to the civilian government.
But he still had traces of his former self-his hatred for indiscipline and injustice. In 2019, he parked his car and directed traffic on a busy road intersection in Accra when the police were absent. And whenever he smelt injustice, he fought on the side of the underdog. In July 2015, Rawlings went to court to support a taxi driver, Fio Yohannes, who felt cheated by a microfinance company and sued the company for a breach of contract. The high court judge hearing the case, Justice Robin Batu, referred the case to Rawlings to mediate.
"I will try but if it doesn't work, we will return to you," Rawlings said.
It worked.
A Mythical Figure
I had never been denied an opportunity to meet Rawlings anytime I requested to meet him. I met him three times between 2016 and 2019, and we had conversations. Each time I left his Ridge residence, however, the same question rang in my head like an ancient church bell:
"Is that J.J. Rawlings I just met and sat down to have a conversation with?"
Some things are always unreal no matter how many times you encounter them. Familiarity does nothing to reduce some shocks. And for people of my generation and many Ghanaians, meeting Flight Lieutenant Jerry John Rawlings and having a conversation with him was certainly one of them. Many years earlier, a combined prophecy from Prophet Mohammed and Jesus Christ about that possibility would have left many in doubt.
Rawlings was the most charismatic and influential political figure in Ghana apart from the country's first President, Kwame Nkrumah. He was Ghana's longest serving head of state. But to many, including me, he was a mythical figure, the kind of superhero who could only be encountered in wild fictions. Indeed, as children, we encountered him in fictions.
I grew up in Kete-Krachi, a peninsula community far away from the national capital, Accra. There was a fisherman who had a small private boat he used to commute from one fishing community to the other. The horsepower of the outboard motor that propelled the boat was much bigger than the size of the boat. So, whenever "Abiba's Power", for that was his nickname, was on the lake, the speed of his tiny boat cut through the placid lake like a knife. It was an unmistakable public spectacle.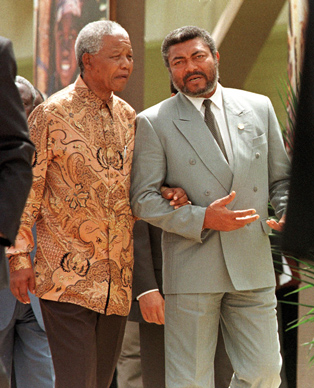 Mandela and Rawlings Jean-Philippe KSIAZEK / AFP
But there was more to the spectacle that drew attention to the man. There was a painting of Rawlings on the wooden boat. As children, we were told that the outboard motor had been given to him by J.J. Rawlings.
What had he done to win the favour of Rawlings?
The story had it that J.J. Rawlings once visited Kete-Krachi, and unknown to his hosts, he decided that he would pass the night on one of the islands. He sneaked out of the government apartment, and Abiba's Power, was the fisherman who ferried Rawlings to the island and brought him back before sunrise the following day. The powerful outboard motor was Rawlings' token of appreciation to him. This was one of the many mythical tales we believed about Rawlings.
Whenever he visited Krachi for a party rally or a government function, farmers would not go to farm. Fishermen would abandon their fishing canoes and nets, and schools would close. Everyone wanted to catch a glimpse of him. The following day in school, only one topic prevailed - the visit by J.J. Rawlings.
Party posters with Rawlings' face were a priced possession every household adored. We the children would steal those at public places and use them to cover our exercise books.
This was the Rawlings I was sitting down with.
A Changed Rawlings that Remained the Same
My last visit was meant to ask him some questions about a book I was writing. The book was about the presidency of John Mahama, the Fourth President of Ghana's Fourth Republic. He was the fourth successive John in the Fourth Republic to be president after, John Rawlings, John Kufuor and John Atta Mills. (In Ghana, the republic is counted as the civilian era before or after a military intervention. The Fourth Republic began in 1992 after the 1981 coup d'état).
When John Rawlings seized power on the last day of 1981, John Mahama's father was one of the politicians who fled into exile in order to avoid imprisonment. John Mahama and his siblings first helped their father to cross the border to Cote d'Ivoire, and he later fled to Nigeria. Mr. E.A Mahama, who was the first minister of the northern Region of Ghana in the Nkrumah era, later fled from Nigeria to England when foreigners, mostly Ghanaians, were expelled from Nigeria in 1983.
When John Mahama decided to go into politics, John Rawlings had transitioned from a military ruler to a democratically elected president. John Mahama joined John Rawlings' party, the National Democratic Congress (NDC) and won a parliamentary seat. He was instantly appointed a deputy minister of Communications by Rawlings. He was later appointed a substantive minister for the same ministry. He then rose to become the vice-president and president of Ghana on the ticket of the party whose founder chased his father into exile.
John Rawlings had fallen out with John Mahama. He had also fallen out with the late Professor John Evans Atta Mills, the man who had been president on the NDC ticket before John Mahama. Rawlings' wife, Nana Konadu Agyeman Rawlings, also contested against President Mills in the internal party primaries ahead of the 2012 election. When she failed to win, she broke away to form her own party, the National Democratic Party (NDP).
Rawlings' first child, Zanetor Rawlings, contested and won a parliamentary seat in Accra on the ticket of her father's party, and partly due to what analysts said was due to her father's name and fame. She had been tipped to rise to the top in politics, but Rawlings had started flirting openly with the other major party opposed to the NDC he was still regarded as its founder.
I was here to interview him about some of these issues. But that interview did not take place, even though I had sent the synopsis ahead of the meeting.
Rawlings was a bully back in secondary school, according to his wife, Nana Konadu Agyeman Rawlings. And he was still a bully in his final days. If you went to Rawlings with a discussion, what he wanted to discuss with you preceded what sent you to him. So, on this day, he did not give me the opportunity to touch on why I came to meet him.
Rawlings could not transition from a military ruler and a politician into a statesman. If he did, he failed to master the statecraft of statesmanship. His choice of words was still not different from his days as a military ruler. He did not know euphemisms. He still called people "thieves" and "criminals" at will. A respected journalist whose name he could not immediately remember in our conversation, first came in a description.
"Ah I've forgotten the name, that criminal whose face looks like a wall gecko," he said, fighting hard to recollect the name.
He controlled the erratic conversation, jumping form one incoherent topic to the other, but revealing the very things that troubled him in his last days.
He was concerned that a group of people within his party were conniving with outsiders to soil his reputation. He told me one such attempt was the renewal of the "gift" Sani Abacha once gave him. The debate was not whether the gift was given and received. There was no consensus on the amount.
In 2016, Rawlings told The Guardian newspaper in Nigeria that Abacha gave him $2million, and not the $5million that had been reported. Whatever the amount was, Ghanaians felt it was the lowest ebb of his character. The man who executed people for corruption shouldn't have dined with one of the most corrupt leaders the world has seen.
But there was one topic Rawlings did not leave out in all my meetings with him-his disdain for former President John Agyekum Kufuor. No one seems to understand the main reason Rawlings missed no chance to launch a verbal onslaught on his successor both in private meetings and public engagements, but the two have an interesting history.
When Rawlings staged his second coup on December 31, 1981, one of the main sanctions came from Nigeria, whose President, Shehu Shagari, cut oil supply to Ghana. In January 1981, a delegation was to be sent to Nigeria and Rawlings and his team had intelligence that J. A. Kufuor had a good relationship with the Nigerian president and had to be part of the delegation.
Kufuor, one of the politicians who were in prison at the time, accepted to be part of the delegation on condition that he would be released from prison and the confiscated saloon car he had bought with loan as a member of parliament would be returned to him. He also wanted the outstanding loan repayment written off. Rawlings agreed to all the conditions and the trip to Nigeria resulted in a successful negotiation. A year later, in January 1982, Rawlings appointed Kufuor as his first minister in charge of Local Government, a position Kufuor resigned from later.
Zaya Yeebo, who was Rawlings' minister for Youth and Sports at the time Kufuor was also a minister, told me in an interview that Rawlings had enormous respect for Kufuor.
"Whenever he was insulting his appointees and accusing us of being corrupt, he often singled out Kufuor," Yeebo said.
Kufuor would later be elected the flag bearer of the New Patriotic Party and he contested against Rawlings in the 1996 election but lost. He, however, won the 2000 election and succeeded Rawlings who had been in power from December 31, 1981 to January 7, 2001.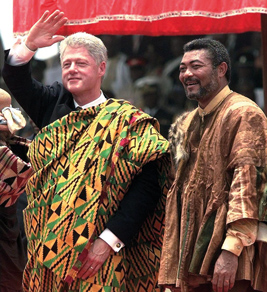 US president Bill Clinton is seen here with President Jerry Rawlings when he visited Ghana in 1998 PAUL J. RICHARDS / AFP
Prouder Military Ruler than Civilian President?
If you visited Rawlings' residence, there was one thing you were bound to notice and wonder about-the framed photographs on his wall. All the photographs on his walls were those of his days as a military ruler. And perhaps, those were his proudest years. Those were the years Rawlings was at his idealist best and had his integrity and good conscience intact.
Rawlings burst into Ghana's turbulent political landscape like a refreshing spring of water in a desert full of thirsty souls. And he was overwhelmingly received by Ghanaians, the ordinary men, women and children who had nothing to lose or live for.
He was a daredevil and his actions had all the makings of extreme foolhardiness, but it was the sincerity of his convictions and his willingness to sacrifice for the ordinary Ghanaian and soldier that won him the admiration and support of the people. That's what saved him from execution in 1979.
Rawlings and six other soldiers were arrested on June 15, 1979 when his first coup attempt was foiled. One soldier was killed while Rawlings and six other junior ranks were arrested and put before a court martial. The outcome of the trial was more predictable than the ritual journey of the sun from the East to West. He, if not the rest of the people, was very much likely to be executed. But it was the trial that made him.
Little was known of him until on Monday May 28, 1979, when the trial began with an introduction from the Director of Public Prosecutions, G.E.K. Aikens at the Burma Hall Conference Room of the Ghana Armed Forces:
"Mr. President, the principal architect and ringleader in the carrying out of the mutiny is the first accused, Flight Lieutenant Jerry John Rawlings of the Ghana Airforce Station, Accra. He is a young man of about 31 years."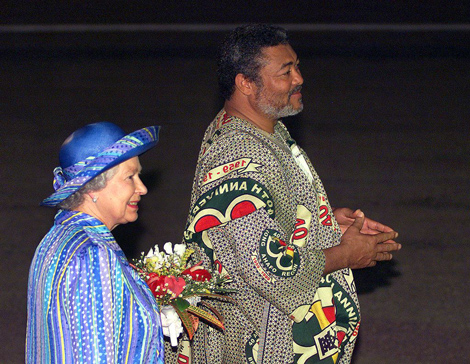 British Queen Elizabeth II (L) is escorted by President Rawlings at her arrival for a two-day visit to Ghana in November 1999. ISSOUF SANOGO / AFP
Jerry John Rawlings was born Jerry Rawlings on June 22, 1947 to Victoria Agbotui from the Keta in the Volta Region of Ghana and Ramsey John, a chemist from Scotland. According to Rawlings, his name was rearranged at Achimota School, making John his middle name and Rawlings his surname.When he obtained his General Certificate of Education 'O' Level in 1966, he enlisted as a Flight Cadet in the Ghana Air Force in August 1967 and was subsequently selected for officer cadet training at the Ghana Military Academy and Training School. His mother had wanted him to be a medical doctor and once slapped him when he first mentioned that he wanted to be a pilot. But he did not give up his childhood dream of flying.In March 1968, Rawlings was posted to Takoradi in Ghana's Western Region to continue his course. He passed out in January 1969, as a commissioned pilot officer. He won the coveted Speed Bird Trophy as the best cadet in flying and airmanship. He earned the rank of Flight-Lieutenant in April 1978.
Why He Staged the Coups
The Military had seized power in 1972 and elections were scheduled for June 18, 1979 to return Ghana to a civilian rule, but the untold corruption in the military and the nation had outraged Rawlings. While the nation yearned to return to civilian rule, Rawlings thought the corruption in the military had to be purged. Those who had stolen from the state should not be allowed to go without punishment.
"Mr. President," director of Public Prosecutions continued, "the first accused had for a long time felt disillusioned about the injustice in our society, more particularly under the Acheampong regime: and so, when in July 1978 the SMC Supreme Military Council was reconstituted with the removal of Mr. Acheampong as Head of State, Jerry John Rawlings thought things were going to be improved. When he realised that there were no improvements in the general conditions of life, he was struck with dismay and lamented over what he termed 'the tarnished image of the Ghana Armed Forces'..."
The trial made Rawlings an instant hero among the ranks of the Ghana Armed Forces and the nation at large. The wild cheers that greeted the prosecutor's narrations from the soldiers were evident in their support for the failed coup, especially when the first prosecution witness, Flt Lt. J.B. Atiemo told the military court that Rawlings had said he was prepared to die on behalf of the accused being tried along with him.
The following day, Ghana's leading newspaper, the Daily Graphic, screamed with a banner headline, "LEAVE MY MEN ALONE...I'm responsible for everything." His popularity grew and many wished he had succeeded.
When he was arrested, the speech Rawlings had drafted to be read if the coup had succeeded was seized. Among other things, he declared, "I am no expert in economics and I am not an expert in law, but I am an expert in working on an empty stomach while wondering when and where the next meal will come from."
While in his cell, he drafted another speech to be read at the military tribunal trying him. He had planned to tell the judge that "I'm not here to deny my efforts that led to the events of the 14th into the 15th; neither am I here to deny my convictions, my concepts, my beliefs, my conscience."
But he did not get the opportunity to read that powerful speech. What had transpired in the trial had inspired enough soldiers who, on June 4, 1979, overthrew the military government, released Rawlings from prison and made him leader of what became the Armed Forces Revolutionary Council (ARFC).
The ARFC led in what they called the national cleansing of corruption. Top military officials and former military heads states were tried for corruption and executed. Traders hoarding goods and selling them at exorbitant prices to queues of customers were arrested or had their goods confiscated.
The elections were held as planned, and contrary to fears that Rawlings would hang on to power, he handed over to Dr. Hilla Limann, who won the 1979 election. He returned to the barrack. He said he wanted to remain a soldier on the same rank.
The conditions did not improve. The corruption returned. The Limann administration retired Rawlings from the Ghana Armed Forces and nudged the military intelligence to harass him and his group in a bid to stop him from returning to power. On December 31, 1981, Rawlings seized power from Limann in what one of his men declared as "the coup to end all coups" in Ghana. He and his team formed the Provisional National Defence Council (PNDC) and ruled Ghana until it returned to multiparty democracy in 1992.
Rawlings formed the National Democratic Congress and he contested and won the 1992 and 1996 elections.
The Legacy of JJ Rawlings
Deaths often unite people in grief, but the death of Jerry John Rawlings has divided the nation in many ways. He died a few weeks to the 2020 election and his party started fighting President Akufo-Addo and the governing party for denying his party due recognition and trying to make political capital of their founder's demise.
Rawlings' immediate family, in consultation with the government of Ghana announced December 23, 2020, as the date for the burial of Rawlings, but that would not go uncontested. The traditional authorities from Rawlings' ethnic group issued a press statement asking Ghanaians to disregard the announcement, saying Rawlings had a traditional title and that customs had to be followed. They said they could not allow their royal to be buried without their involvement.
Like the proverbial visually impaired people describing the elephant differently after touching it, the name Rawlings evokes different emotions and reactions from Ghanaians. His place in the history of Ghana is, however, impossible to erase.
First of all, he is credited with the stability Ghana has enjoyed since 1981. Military interventions that punctuated Ghana's political landscape since independence stopped with his emergence. The PNDC was able to stop a number of coup attempts and transitioned into civilian rule. Contrary to fears that Rawlings was not going to leave, when his party lost the 2000 elections, he handed over to Kufuor peacefully.
The PNDC undertook a number of reforms and passed a number of important laws that are still used in Ghana today. The PNDC weathered the economic hardships of the 1980s, especially the famine of 1983. Many however fault Rawlings for succumbing to the Bretton Woods Institutions' enticement to undertake the Structural Adjustment Programme in the 1980s. In that period, the IMF, the World Bank and other donors financed Ghana's programme with about $6 billion. The economic recovery structural adjustment programmes were intended to alleviate poverty, improve living conditions in the country and promote economic growth. The government was to cut down the size of the public sector workforce, privatise state-owned enterprises, do away with price regulation, liberalise imports and take away policies that sought to protect local industries from competition.Critics of Ghana's SAP point to a gloomy situation that made Ghana worse off. In a 2015 publication on Ghana's SAP, Aramide Odutayo concluded that "Ghana is a poignant example of how powerful states have used the implementation of structural adjustments to maintain the interests of the world capitalist system by exploiting the resources of the Global South." Rawlings is also associated with human rights abuses, especially in the military era. The murder of three judges and a retired military officer in 1982 remains a blot on his tenure. Even though some persons were found guilty and executed for the heinous crimes, many believe they could not have been possible without the approval of Rawlings and the top echelon of the PNDC.But he is also remembered for the principle, "probity, transparency and accountability" which did not quite stay with him to the end because some of his appointees were involved in various acts of corruption. The state filed charges against his wife but later dropped them.Corruption remains the biggest threat to Ghana's growth and stability. And the man who made the strongest statement against corruption, in word and in deed, died at the time the corruption of 1979 pales in significance to the corruption of 2020.Jerry John Rawlings conquered a lot. But he could not defeat corruption, which took him from the barracks into the turbulent political arena.
*Manasseh Azure Awuni reports from Accra, Ghana
Comment on this story