THE RISE OF BAYELSA TO A FORMIDABLE INVESTMENT HUB
04/05/18, Biodun Omojola
Governor's Office, Yenagoa
The last six years have witnessed rapid socio-economic and infrastructural development in Bayelsa State under the watch of Governor Seriake Dickson. The Niger-Delta state located in oil-rich south-south Nigeria is now ready for local and foreign investors to tap into its abundant resources.
Bayelsa state, south-south Nigeria, is beginning to consign to history the moniker of one of the least developed states that had always been its lot; a state lacking major developmental amenities and infrastructure. Today, the narrative is changing markedly; it is now the fastest developing state in the country. Carved out of the old Rivers state, October 1, 1996, by General Sani Abacha, the name Bayelsa is an acronym of three former local government areas, Brass, Yenagoa, and Sagbama. Its lack of development contradicts the enormous great wealth it is sitting on; the state has the largest crude oil and natural gas deposits in Nigeria. In stark terms, Bayelsa is the state that lays the proverbial Golden Egg - about 40 percent of Nigeria's oil deposits lie underneath it landmass - but sadly doesn't get to eat its white and yolk.
Before the coming of the present administration of Governor Henry Seriake Dickson, Bayelsa has hardly had any political stability. Its first democratically elected governor was unceremoniously impeached. The next left to become the first Nigerian president ever to come from the south-south political zone. There was a third governor who had electoral credibility issues.
Their impromptu departures and lack of continuity may have had a major effect on the development - that is the lack of it - in the state although this is not to imply that these past administrations didn't make contributions to the state's development. However, the massive physical and social transformation currently ongoing in the state stems from strong political stability that the state previously lacked.
Now in the sixth-year of his eight-year, two-term limit tenure, Governor Dickson has been able to reverse that initial instability at the political level with tangible results especially at the grassroots level. Appropriately, he has termed his administration the "Restoration Government", perhaps with a regretful look back at missed opportunities under past administrations. Now the Dickson administration feels the time is right to reveal what is probably Nigeria's best kept secret - the silent tsunami-like revolution taking place in the state. In Nigeria, most political promises end at the electioneering stage and once in office the agenda is usually executed haphazardly, that is, carried out generally on a hit-or-miss principle. In the Dickson's case, the electioneering promises have evolved into a real actionable policy framework.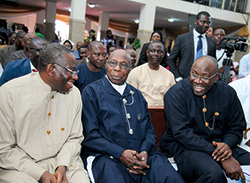 Immediate past president of Nigeria, Goodluck Jonathan is from Bayelsa State himself. He joined former President Obasanjo and Governor Dickson at the church service to mark the governors sixth year in office
The framework, which transformed into the "Restoration Agenda" was clearly stated at Dickson's inaugural address in 2012 when he assumed office as the state's 4th executive governor. The policy resulted from Dickson's close observation, both at the community and state levels, of happenings in the state and the series of missed opportunities of past administrations to transform the state and make a positive impact on Bayelsa people. Dickson had been a state commissioner and a key player in the Ijaw nation both at the youth and elder committee levels. At one time he was the legal adviser and one of the chief strategists of the Ijaw movement. All these gave him a panoramic view of the challenges facing Bayelsans (as they like to be called) and to have a strategic plan in place, ready for execution once in office.
As he told Africa Today (see interview) at Government House, Yenagoa, he entered Bayelsa politics with "plenty of anger in my belly and also plenty of fire in my belly to redress, in a radical manner, the decades of under development, neglect and, should I say, bad governance," that has bedeviled the state. What led to this "anger" stemmed from what he saw as an active player in the politics of the state and the entire Niger Delta. According to him, "I knew, firsthand, the challenges of our people and their aspiration and I have a clear understanding as to what should have been done. I also had a clear understanding as to what had not been done and what, therefore, could have been done and I was in a hurry to get these things done." Dickson's intimate knowledge assisted him tremendously in formulating a policy framework that would be inclusive and have immediate and positive impact. Under infrastructure, roads were built, opening up the state and linking various far-flung communities to major towns and the capital, Yenagoa. Under health, hospitals were constructed and equipped with state-of-the-art equipment seen only in major health establishments in the western world. The lethargic education sector was revived with children enjoying free and compulsory education to the secondary level. Beyond the secondary level, scholarships are available for deserving students to attend local and international universities. Agriculture has been raised from being a subsistence occupation to one that is capable for earning the state foreign revenue. Tourism is being revived while the security challenge has been effectively dealt with. Clearly, unlike in some states, his government is not one to embark on grandiose projects with little or no positive impact on the citizenry.
It is no wonder that the drums came out for Governor Dickson during his sixth anniversary celebration in February at which he revealed the new Bayelsa. On hand, as special guest, was former president Olusegun Obasanjo, who as Nigerians know, does not support frivolous programmes and tends to chide constituted authority for not doing the obvious in governance. That he was on hand to commission projects completed by the Dickson administration indicated Dickson must be doing something good and right. The anniversary wasn't all about celebrating Dickson's accomplishments. It was also an avenue to focus national attention on a major Nigerian political question, restructuring. Politically advanced beyond their small region, the Ijaws, the country's fourth largest ethnic group, had been at the forefront of local nationalism long before Nigeria's other three major ethic groups and theirs was based more on pragmatic realisation rather than numerical strength. The well-received lecture, delivered by retired General Alani Akinrinade, a civil war hero, and former head of the Nigerian army, a man well regarded and well respected across the country, is a throwback to Dickson's past, and, continued support of the Ijaw nationalist movement.
Perhaps to better understand why the bells were rung for Dickson's sixth anniversary is to retell the old Bayelsa story. Described as "a region of physical handicap which is unlikely ever to be highly developed," Bayelsa is a low-lying state with more creeks and rivers than land. Being aquatic in nature - 70 percent of its total land space is under water - its terrain is difficult, and this hampers development as human activities are largely curtailed by natural conditions. As a result, infrastructure development was a big challenge, economic activity limited and many social sectors like education and health greatly underdeveloped. Security too was a major issue as crime including kidnapping was rampant. Bayelsa has also experienced monumental environmental degradation occasioned by oil exploration, political marginalisation and poor economic development over the past 20 years despite contributing immensely to Nigeria's commonwealth. In pure economic terms, Nigeria has earned over N96 trillion from oil from the Niger Delta and yet there are no roads and other infrastructure in the zone to write home about. Sadly, therefore, its moniker of the "Land of all Glory" was not befitting. And it is Governor Dickson's determination to bring vaunted pride to the "Land of all Glory".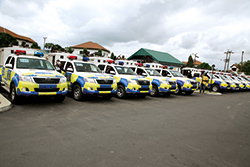 Governor Dickson wants to make Bayelsa State the safest in Nigeria, and he has done a lot to achieve this, including providing the state's police command comfortable patrol and security vehicles to do their job and make the state safe
To people following the Bayelsa Project under Dickson, what was commissioned during the sixth anniversary, was no surprise. On assuming office, Dickson had made it clear where his priorities will lie. He declared a state of emergency on education, placed security, health and development among his topmost tasks and promised to make accountability and transparency his administration's watchwords. Not only are these sectors getting the much-needed attention the state's dormant economic base has also been activated by the introduction of laudable economic plans by the government.
Seeing a new Bayelsa rise from the depths of the marshy delta, figuratively speaking, must, certainly, have confounded visitors who came for the anniversary. Former president Obasanjo was certainly overwhelmed by what he saw in a state he last visited 20 years ago. In his usual candid manner, Obasanjo, perhaps to challenge other Nigerian state governors who tout their state's transformation, said "anybody who wants to see transformation should come to Governor Dickson's Bayelsa". The former President said the governor has not only transformed the landscape but has made the once volatile state relatively peaceful, stable and secure. Projects commissioned by the former president include a drug distribution company and an ultra-modern diagnostic centre, a 500-pond aquaculture village and the multimillion naira fish farm, the Ijaw National Academy and various road and construction projects.
Transparency in government has always been a major issue in most African countries, Nigeria inclusive. Information, which is a tenet of transparency, is usually curtailed, mixed-up or withheld altogether from the public. However, in Bayelsa information is king as the state places great values on openness. The Dickson administration, from inception, had stated its intention to be transparent. According to him "One of the cardinal points of my administration is to make fundamental reforms of governance culture to emphasis transparency, accountability, due process and value reorientation by all institutions and functionaries of government." Commissioned during the celebration was an Information Centre to provide correct information about state activities. Part of the transparency promise is the monthly briefings detailing how the state revenue is spent. This is a novel practice in a country where states' revenue profile is treated as a national secret.
The Bayelsa narrative is not complete without discussing security. That Bayelsa is a safe state today speaks volumes. It is from the dark depths of the swamps and mangrove forests that dare-devil marauders, on speed boats, emerge to terrorise the communities and kidnap at will. Their grudge has been the lack of development in their area, even though it produces a hefty percentage of the nation's wealth and bears the brunt of oil exploration. No oil company has any physical presence in the state. However, one of Dickson's priority, upon assuming office, was to make the state safe. Evarada Don Abednigo, the governor's special assistant on urban security, revealed that before Dickson was sworn-in, Bayelsa was rated poorly on security. Today, the state government has a rapid response crime unit, Doo Akpoor, fully equipped with the state-of-the-art equipment for crime fighting. In fact, Bayelsa state has been adjudged to be the safest state in the volatile Niger Delta region.
The poor security situation greatly affected economic development and investment despite the state's huge potentials. But Governor Dickson's forward-thinking approach to security has changed that and the state is now an investment paradise with the governor the lead promoter of this investor-friendly state. To date, he has organised two successful economic summits aimed at opening up Bayelsa to local and international investors. Former president Obasanjo commended Dickson saying, "If there is anybody here who does not know that this governor is a transformational leader he should know by now (that) this governor will do anything to ease doing business in Bayelsa state." To enhance investment, the state has established a one-stop investment agency that handles investment-related matters but introduced investor incentives like tax relief, tax holiday and made land acquisition easy, among others. One of the first things the Dickson administration did was to liberalise land issues. Now the process of obtaining the coveted Certificate of Occupancy takes only 60 days.
There are many investment opportunities available in the state ranging from agriculture including aquaculture and fisheries to hydrocarbon and energy, tourism and hospitality. The state's huge resources of oil and gas and its proximity to the sea make investment opportunities certain. The state prides itself as having one of the longest coastline of beautiful, white sandy beaches and in recent years, the state has left a huge mark on the international entertainment scene by hosting many high-profile festivals and awards. The state's vision is to be the tourism, sporting and conferencing hub of Nigeria. This it will, no doubt, achieve with the commissioning of a heliport and a 15,000-seater ecumenical center.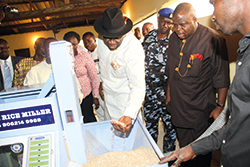 Governor Dickson is seen here inspecting harvested rice during his visit to the state government's rice miller at Edepie. Dickson believes that the only route for economic prosperity in Nigeria is through agriculture
Investment is already pouring into heavy industries. The state has signed an agreement with Chinese investors for the construction of the $6 billion Brass Fertilizer and Petrochemical Company Limited (BFPCL). Phase one of the project is expected to be fully functional by 2020 and will produce 1.66 million metric tonnes (MT) of methanol and 1.3 million metric tonnes of urea per annum with an annual turnover of $1.5 billion while the construction of a private refinery capable of refining 12,000 barrels of oil per day will soon be operational. When operational, both projects will directly and indirectly employ thousands. The state has plans to utilise the excess gas being flared for economic use. The Dickson plan is to turn the state into an energy hub.
It must be said that economic potentials of Bayelsa has clearly been hiding in plain sight. The Dickson administration has, however, done a successful job of directing attention towards it. An airport being built for instance is not just to have planes come and go. It is part of a larger plan of the Free Trade Zone in the state. The state is now ready for business and from all indications its potentials are attracting attention. Now the secret about Bayelsa as an investment friendly state is out. As Dickson himself said, Bayelsa is ready for business adding: "a number of people run into congested areas and don't know that there are virgin areas to explore in Bayelsa for maritime business, for oil and gas, for energy and power because of our abundant gas so Bayelsa is the investment destination," and Nigeria's best kept secret.
Despite the difficult task of administering Bayelsa state, Governor Dickson still has an eye on national issues as the anniversary lecture, delivered by General Akinrinade, revealed. The Ijaws have always been politically advanced and are long time advocates of local nationalism so it was no surprise the lecture dwelt on a politically germane issue, restructuring, which has always been a touchy subject in Nigeria. Dickson has opined that the 2019 elections will be a referendum on restructuring. Having a lecture on this controversial subject shows that Dickson is unafraid to start a national conversation or at best, keep a national topic in public domain. This is a testament to the Ijaw mentality of courage and determination at confronting the obvious.
Akinrinade paid tribute to the Ijaws principled stand and their commitment to true federalism despite being labeled minorities. According him the "minority label notwithstanding, the Ijaw nation has been in the forefront of the quest and struggle for true federalism in Nigeria. Put in another way, the Ijaw people have been in the forefront of finding a just answer to what is known as the National Question and the issue of political justice in modern Nigeria with armed uprising as a constant option."
Dickson's antecedents in the Ijaw movement are well known: he was one-time national legal adviser and chief strategist of the Ijaw National Congress and, in his words, "has been in the trenches" for the struggle for the Ijaw nation. The Ijaws see Bayelsa as the capital of the Ijaw nation. As he stated during his inauguration in 2012, I am "a product of the Ijaw movement, I am aware that I was not just a candidate of Bayelsa State but of the entire Ijaw nation. To all Ijaws wherever they may reside, let me reaffirm that Bayelsa will continue to be your Jerusalem and I will be your governor too." Dickson, as a nationalist Ijaw man, is reaching out to Ijaws and seeing to their wellbeing beyond Ijaw land. One of such outreach saw him provide soft loans totaling N30 million to Ijaw women in Ajegunle, a suburb of Lagos in south-west Nigeria for small and medium scale businesses.
Despite his strong Ijaw antecedents and his equally strong stance on restructuring, Dickson is a diplomat and a unifier. This trait was evident during the sixth-year anniversary as people from across Nigeria's six geopolitical zones trooped to the state. Among the visitors were former speaker of the Senate, Ibrahim Mantu, former deputy governor of Sokoto state Shagari and former ministers of information John Ogar Odeh, Jerry Gana and Labaran Maku. Others are chairman of the opposition Peoples Democratic Party (PDP) Uche Secondus, former governor Chukwuemeka Ezeife among others. Perhaps the highlight of this diplomacy skill was the meeting and bringing together of former presidents Obasanjo and Goodluck Jonathan.
One of the challenges facing governance in Nigeria is the issue of continuity. Each new government wants to leave its imprint by embarking on new projects irrespective of whether the outgoing administration had viable ones that are beneficial but needs to be built upon. This has led to the curse of abandoned projects which litter the whole country. Constitutionally, Governor Dickson is limited to two terms of four years each. Now in the second year of his second term, he has reached the three-quarter mark of his mandate. But he was quick to tell Africa Today that despite the progress made, he will be the first to admit that Bayelsa is not "where I want it to be" adding that "states or nations are not built in four or eight years or even in one's life time by anyone government. It is a work in progress - from government to government, from governor to governor, from one team to the other." By this, he has tactfully tasked the next administration to continue the building process in Bayelsa although the next election won't come up until 2020.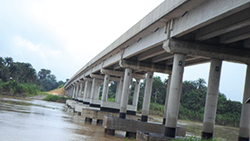 Ogobiri-Toru Ebeni Bridge completed by Governor Dickson
Today's Bayelsa has defied the odds and surpassed expectations. The Dickson administration must be credited for the transformation, although he is still not satisfied. He wants what is good for the Ijaw Nation, Bayelsa state and the whole Niger Delta region. That hunger to deliver and cover lost ground very quickly, keep the fire he brought to governance burning.
Undoubtedly, the old book on Bayelsa has now been torn and discarded. A new book on the state is being written, and as Dickson, the author said, it is work in progress. So far the first few chapters are well written and structured. It is now left for other contributors, waiting in line from 2020 and beyond, to maintain the style and narrative. Will other contributors to the Bayelsa project continue the excellent narrative? Only time will tell.
*Additional reporting by Isaac Money, in Yenagoa.
Comment on this story