GOOD NIGHT AND GOODBYE
09/03/18, Modupe Ogunbayo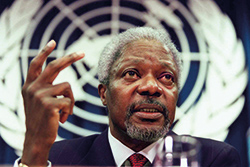 Kofi Annan
A great and proud son of Africa, Kofi Annan, the reformist secretary-general of the United Nations, dies at age 80.
The man died. A mortal that he was, he must surely exit the world at some point like all fellow humans. It so happened, Kofi Annan, 80, took his final bow, August 18, 2018. As a global icon, the only sub-Saharan African to be the United Nations' secretary-general who pioneered wide reforms, lamentations, tributes and eulogies poured in from every corner of the globe to celebrate this icon. The most heart-warming message was penned by Kojo, his first child and son. "While we shared him with the world, we (his family) were never poorer for it," he wrote. Indeed. His life was a trajectory of events shared with the world.
Kofi Annan, born as a twin brother to a twin sister, Efua, in 1938, rose through the ranks at the UN to become its top diplomat after joining it in Geneva, Switzerland, in 1962. He was a global citizen in more than that professional sense. In 1965, he was first married to Titi Alakija, a Nigerian from Lagos. A boy and a girl came from that union. Upon his divorce from her in 1983, he married a European, Nane Lagergren, a year later.
Though Efua died in 1991, the passing of his beloved twin did not dim his determination. Two years later, he became head of UN peacekeeping operations and in 1997, he was appointed seventh secretary-general of the United Nations.
In 2006, Kofi Annan stepped down as secretary-general following a deteriorating relationship with America, his former backer and after serving two terms in office. The UN/Arab League appointed him as Joint Special Envoy on the Syrian crisis in 2012 and a year later, he became chair of The Elders, a peace and human rights advocacy group. In 2016, he led the Advisory Commission on Rakhine State, Myanmar.
His four decades of work traversing the world showed him as a busy, top-flight diplomat. Yet, there was a side to him that was selfishly and intrinsically linked to his family. UN, and the world, had no part of that. 
He was shared with the world but he was not owned by it but by his family. Kofo revealed his humanity away from the klieg lights, global fame and packed schedule. "He was as present with each of us and the family as a whole, as he was with every crisis, every mission, and every intervention. No call, email, or text went unanswered. No personal crises unaddressed," he said. Above all, Kofi Annan's standing as a consummate family man was underlined starkly against the diplomatese of other eulogies. "No major family milestones or celebrations unattended, no matter what was happening in the world," Kofo said.
As a face of him is wholeheartedly dedicated towards working tirelessly and astutely as a key negotiator-in-chief to see a just and equitable world in a role often dubbed "Moral Pope", his other face strictly ensures no major birthdays, children's class events, school graduation, weddings, births, burials and anniversaries goes by without his attendance. In such gatherings, mirth and merriment, tears and sadness or unruliness and spontaneity would have reigned supreme at various turns.
These emotions evoke a markedly different persona than that often exhibited by Kofi Annan. Sporting neatly-trimmed goatee and wearing well-tailored suits, his baritone voice wafts words brimming with charm and eloquence. He possessed nerves of steel and what iconic President J. F. Kennedy famously dubbed as "grace under pressure", always appearing calm and unflustered. This happened despite his serving during a tumultuous decade that witnessed 9/11 al-Qaeda attack on New York and America's retaliatory attack on Afghanistan. He was awarded the Nobel peace prize in 2001 (jointly shared with the UN) for his work to reform the UN's institutions and renew its direction.
In this role, many will remember him for exceptionally underscoring the plight of the poor, the sick and the victims of war. 
His ascension to the exalted office was remarkable. Kofi Annan was an unlikely choice for UN secretary-general back then. He rose through the ranks of the UN by serving in positions often occupied by European or Arab prominent politicians or diplomats. 
As Kofi Annan did so, he faced many storms and conquered them. His four-year stint as head of UN peacekeeping operations witnessed bloody wars which he could not prevent on time. One of the epic cases was the 1994 Rwanda genocide, where an inadequate UN force was delayed by him from acting, due to lack of manpower support, to prevent a genocide that left 800,000 people dead. Blame should be shared, said Kofi Annan later because he noted the world was reluctant to intervene. "All of us must bitterly regret that we did not do more to prevent it," he said.
UN peacekeepers under his watch were again criticised during the wars in the former Yugoslavia. In 1995, when Bosnian Serb forces surrounded the UN-protected "safe haven" of Srebrenica, Dutch peacekeepers surrendered, leading to a massacre of civilians. European powers balked at supporting the troops on the ground with air strikes. Eventually, Kofi Annan ignored his boss, former UN Secretary General, Boutros Boutros-Ghali, and approved a NATO bombing campaign against the Serbs. The decisive action endeared him to America, already seeking Boutros-Ghali's ouster, and Annan's emergence as the UN's new boss.
Many Nigerians remember him as one of the two negotiators (the other being Emeka Anyaoku, his counterpart at the Commonwealth) who visited the country in 1998 to persuade M.K.O Abiola, the winner of the Babangida-annulled June 12,1993 presidential elections to jettison his mandate in exchange for freedom from incarceration. Abiola, already detained for four years, was told to do this because his mandate was invalidated due to passage of time. He bluntly refused, famously saying asking him to give up his mandate was akin to "asking him to lay down his life." Abiola died mysteriously shortly thereafter in detention.
But, the romance between the superpower and the super diplomat would soon fracture. America took exception to Kofi Annan's reference to the UN as "the sole source of legitimacy" for foreign interventions. When NATO initiated a bombing campaign in defence of ethnic Albanians during the 1999 Kosovo crisis, Kofi Annan said it was "tragic that diplomacy has failed," though admitting "there are times when the use of force may be legitimate in the pursuit of peace."
A starker reality of the relationship between Kofi Annan and America occurred in 2003. As America hounded Iraq over its alleged possession of weapons of mass destruction (WMD), Kofi Annan pressed Iraq's dictator, Saddam Hussein, to give access to UN weapons' inspectors to check Iraq's WMD facilities. In a surprising and unprecedented move, Kofi Annan insisted an intransigent America must wait and give Iraq appropriate time to obey the UN. An affronted Uncle Sam threatened war. An unfazed Kofi Annan ruled that any plans for military action on the issue must be deliberated upon by the Security Council, knowing fully well that the Council would vote against such a move. America was outraged and felt betrayed by Annan. America invaded Iraq without UN approval. Undaunted, Kofi Annan pronounced the action illegal, leading to a torrent of criticism from the Republicans. In the firestorm, America spared nothing in attacking Kofi Annan. It suddenly observed that the firm employing Kojo had benefited from UN contracts in Iraq. Never mind that his son's employment predated the war.
America proved his acclaimed vindictiveness soon in financial and personnel cuts to the UN. Those hurt. Kofi Annan did not have troops under his command, those were majorly manned and equipped by America. And he depended on America for virtually all the UN's budget. 
"The attacks (on Mr Annan) reflected the US at its worst, Kofi at his bravest, and the UN at its most vulnerable, trying to maintain international law against a lawless White House," wrote Jeffrey Sachs, a former economic adviser to Kofi Annan. Eventually, he was vindicated as no WMDs were ever found in Iraq. Ironically, the war, also highlighted UN's helplessness in volatile situations against the backdrop of Saddam Hussein's viciousness and America's aggression.
Kofi Annan's admirers would often observe that the super powers criticised the UN for inaction, then obstructed it from acting, depending on their national interest. 
However, Kofi Annan did not consider his admirable chastening of America as his greatest achievement. Instead, he said, his most head-swelling moment was getting all UN member states to agree on the Millennium Development Goals(MDGs). The MDG were a set of global targets for projects such as reducing poverty and child mortality. Till his death, Kofi Annan relentlessly championed the cause of the downtrodden and sought peace in places such as Libya, Myanmar and Syria through the Kofi Annan Foundation. He was a force for good, said António Guterres, the current secretary-general. 
Kofi Annan's soured relationship with America never improved. And he, self-aware of  bearing the pride of African proud progenitors in his veins, chose to step down from the
UN top job rather than bend his principles after all, he would for a long time remain the reformist image of the UN whether in office or out of it.  "In many ways," said Guterres, "Kofi Annan was the UN." 
He knew that. But, he chose to part ways on his terms. Far away from the glitz and glamour of his position. But, surrounded by all his family members who had him in ways the world never did, in his beloved home in Ghana. 
To a great African, good night and goodbye.
Comment on this story